Rainie Yang (traditional Chinese characters: 楊丞琳; simplified Chinese characters: 杨丞琳; pinyin: Yáng Chénglín; Cantonese Yale: Yèung Sìnglàm; Pe̍h-ōe-jī: Iû Sêng-lîm), born 4 June 1984, is a multiple-award-winning Taiwan singer, Golden Bell Awards lead actress and TV host.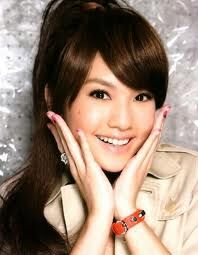 Yang began her career in 2000, as a member of Taiwanese quartet girl group 4 in Love, where she was given the stage name of Rainie, matching the weather theme of each member. The group's popularity in the music industry was mediocre and they achieved limited success. After the group disbanded in 2002, Yang continued to pursue a career in the entertainment industry as a TV host, hosting shows such as "Guess Guess Guess" variety show. After playing supporting roles in several Taiwanese dramas, including the Meteor Garden, she landed the lead role, as Qi Yue, in the CTV drama Devil Beside You opposite Mike He in 2005. Devil Beside You was well received, allowing Yang's career to take off. The same year, she released her debut album, My Intuition, featuring her hit "曖昧" (Intuition) as the theme song of Devil Beside You and 理想情人" (Ideal Lover) as an insert songs of Devil Beside You.
On 23 April 2008, while filming the Taiwanese drama Miss No Good in San Chih, Taiwan; Yang fell heavily from the stairs, and was sent to Mackay Memorial Hospital in Taipei. The stairs were located between the third floor, where the dressing room was located, and the first floor, where the film set was located. The crew originally thought the falling object was a light frame, but upon hearing a groan, they realized it was her. After an X-ray examination, doctors diagnosed Yang's injury as a spinal contusion. After leaving the hospital, producer Angie Chai took Yang to a Chinese massage therapist. Miss No Good, starring Yang and Wilber Pan, was aired during the fall/winter of 2008 and met with much success. During this period of time, she also released her 4th album, Not Yet a Woman, which features the insert song "太煩惱" (Too Much Trouble) and the theme song "帶我走" (Take Me Away) that were featured Miss No Good. In 2009, Yang starred in ToGetHer with Jiro Wang of Fahrenheit and George Hu. Next she filmed The Child's Eye in Thailand, a horror flick directed by the Pang Brothers with Elanne Kong, and also Taiwanese drama Hi My Sweetheart with Show Luo, which first aired on CTS and GTV on 1 November 2009. After promoting Hi My Sweetheart, Yang released her fifth album, Rainie & Love...?, on New Years Day, 2010. Due to the success of Devil Beside You and Miss No Good overseas, Yang entered J-pop in 2010 by releasing a Japanese version of her hit "曖昧" (Intuition) as her first Japanese single
Community content is available under
CC-BY-SA
unless otherwise noted.