We're Getting Mutants in the MCU - The Loop
Play Sound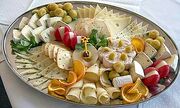 Cheese is created by milk by cows, goats and other animals producing milk. Cheese is made by curd. It is produced by coagulation of the milk protein casein. Typically, the milk is acidified and addition of the enzyme rennet causes coagulation. The solids are separated and pressed into final form. Some cheeses have moldson the rind or throughout. Most cheeses melt at cooking temperature.
Hundreds of types of cheese from various countries are produced. Their styles, textures and flavors depend on the origin of the milk (including the animal's diet), whether they have been pasteurized, the butterfat content, the bacteria and mold, the processing, and aging.Herbs, spices, or wood smoke may be used as flavoring agents. The yellow to red color of many cheeses, such as Red Leicester, is produced by adding annatto.
For a few cheeses, the milk is curdled by adding acids such as vinegar or lemon juice. Most cheeses are acidified to a lesser degree by bacteria, which turn milk sugars into lactic acid, then the addition of rennet completes the curdling. Vegetarian alternatives to rennet are available; most are produced by fermentation of the fungus Mucor miehei, but others have been extracted from various species of the Cynara thistle family.